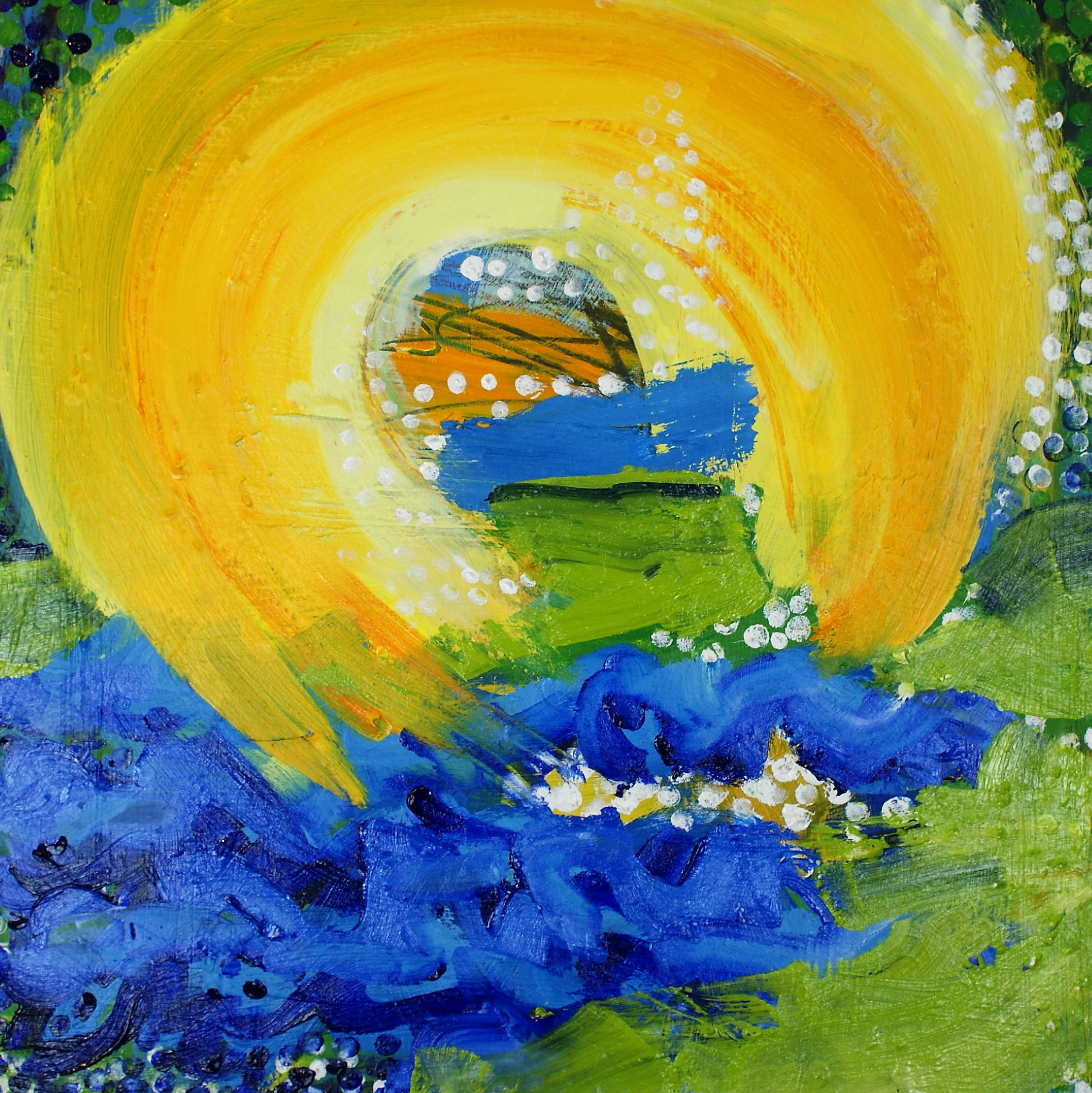 2019
–  Meadow, sea & sunlight, St Ives 2004' 2019 (oil on wood) –
selected for the 'FRONTEER OPEN' painting exhibition, December 2019 at Gallery 35, Sheffield.
---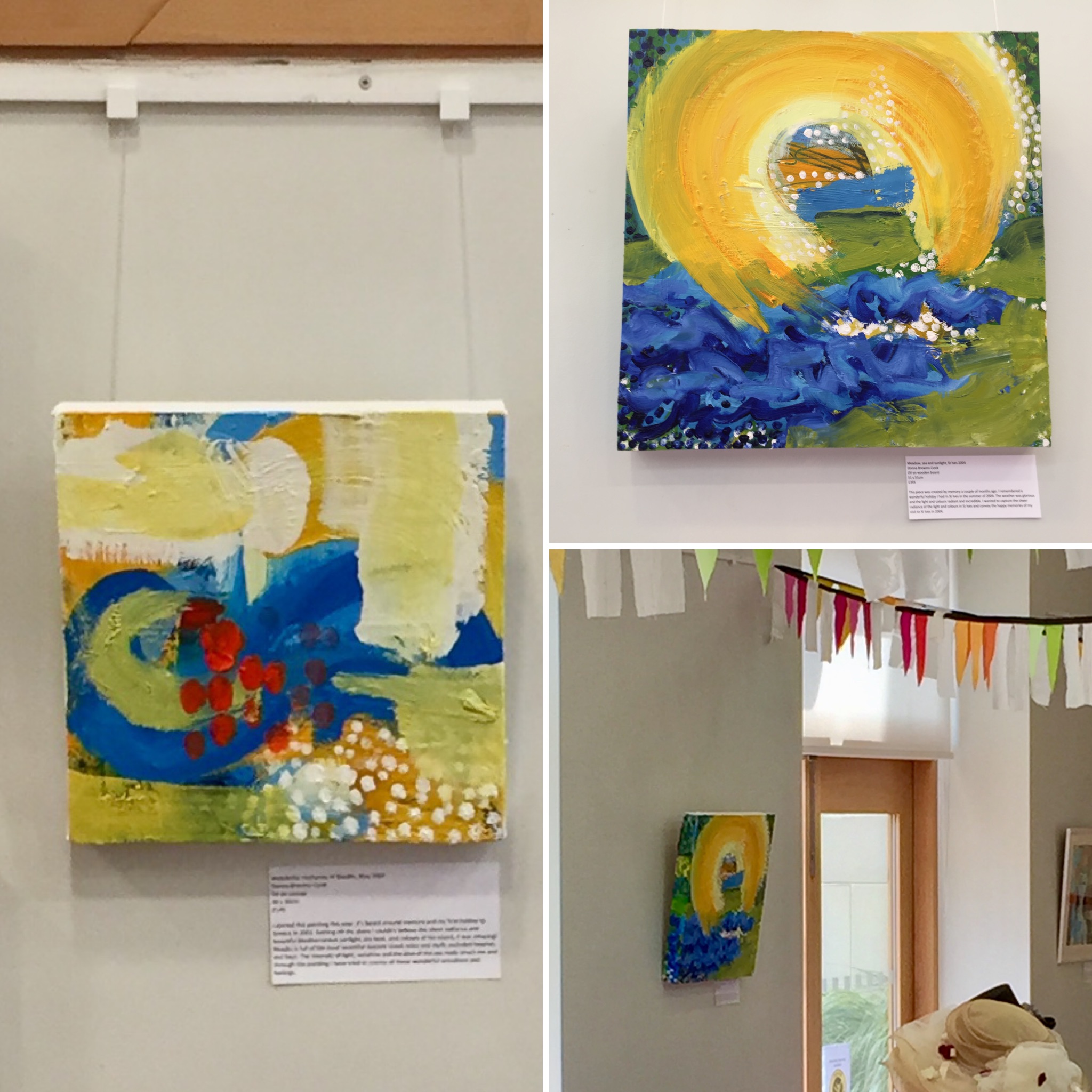 2019 –  ArtBound Summer Group Show – 'Tales of the Iconic' x2 paintings selected, 'Meadow, sea and sunlight, St Ives 2004 (oil on wood 2019) & 'Wonderful memories of Rhodes, 2002 (oil on canvas 2019). 
Hebden Bridge Town Hall, West Yorkshire Exhibition dates: 9th July to 5th August 2019.
---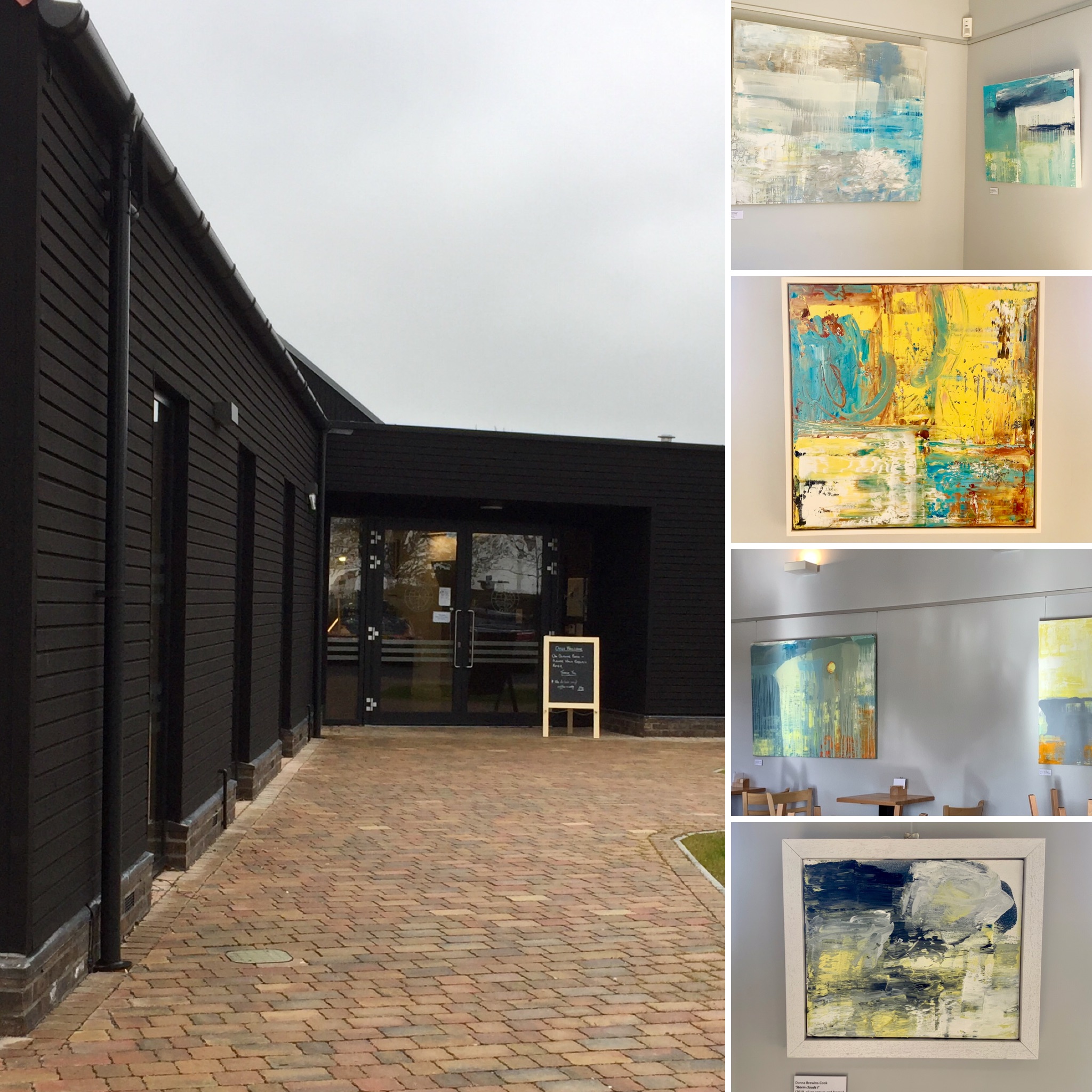 2019 –   Solo Show  entitled:   'To the land beyond':
 I was one of x6 artists selected for solo shows at Mersea Barns during 2019-20 exhibition program. I had to create a series of work based on my reactions to the estuary and mudflats around Mersea Island in Essex. "
Through this exhibition, my paintings attempt to convey my response to the emotional depth of experience that comes from living on the edge of land.
" 15 June – 26 July 2019
---
2019 – ARTbound Summer Group Show. The exhibition theme this year is 'RADIANT' and 'May Blossom' (oil on wood, 2019) was selected for the show
. At Legacy Arts Gallery in Todmorden, West Yorkshire Exhibition dates: 5th June to 30th July 2019.
---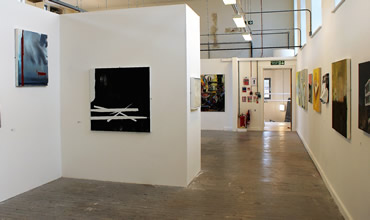 2018 – BEEP International Painting Prize,  Two paintings selected for this exhibition
Swansea Aug to Sept 2018
2016 – New Light 100 for 100 online charity exhibition at New Light Gallery
Northern Online Art Gallery, November.
2015 – HIVE, Harrogate International Visual Arts Expo
, Harrogate, North Yorkshire, 20th-22nd November.
2015 – Platform Open Art Exhibition
, Harrogate, North Yorkshire, 2nd to 4th October.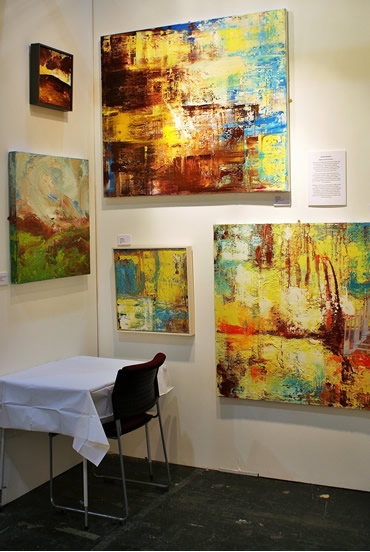 2014 – Open Studios
, Yorkshire Artspace, Exchange Place Studios, Sheffield, November 21st and 22nd
2013 – The Station, Richmond
Solo Exhibition Walk-scapes, Mezzanine  Gallery, 9th to 21st  March
2012 – The Station, Richmond
, ANOTHER Spot On The Wall -Group exhibition
2009 – Saltaire Arts Trail
, Saltaire, Open Exhibition
2005 – North Street Gallery
, Leeds; mixed exhibition Autumn
Cupola Gallery
, Sheffield March Hares mixed exhibition
2004 – Cupola Gallery
, Sheffield, mixed exhibition January Sale
2003
–
Stevenson Gallery
, Tunbridge Wells, Kent, Mixed Exhibition
Stevenson Gallery
, Tunbridge Wells, Kent, Mixed Exhibition
Cupola Gallery
, Sheffield, mixed exhibition January Sale
2002 – Cupola Gallery
, Sheffield, mixed exhibition January Sale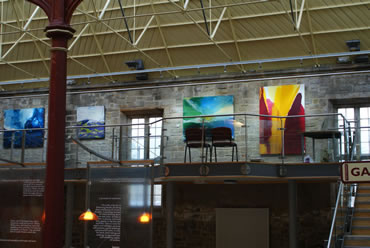 2000
–
Rotherham Art Gallery
, Yorkshire Artspace Christmas Exhibition
Cupola Gallery
,Sheffield,10th Anniversary Celebration Mixed Exhibition
Open Up Sheffield Galleries
and Studios
public weekend event; artists open studios to the public
Cupola Gallery, 
Sheffield, Easter Mixed Exhibition
1999 – Cupola Gallery
, Sheffield, Christmas mixed exhibition
Cupola Gallery
, Sheffield, Summer mixed exhibition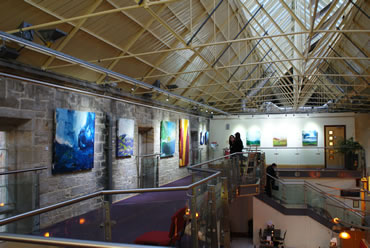 The Ruskin Art Gallery
, Sheffield,
Space 1999
, group exhibition & Directory launch with Yorkshire Artspace
Open Up Sheffield Galleries
and Studios
public weekend event; artists open their studios to the public
1998 – Cupola Gallery
, Sheffield, Christmas mixed exhibition